Road Scholar - Baltic Road to Independence 2013 - Latvia
Riga, Estonia

St. Peter's Church steeple on the left (aerial photos were taken from this steeple. Blackheads House, on the right, flattened by the Soviets and reconstructed from the original plans in 2001 for Riga's 800th birthday. This is Ratslaukums Square.

The Freedom Monument
Views from St. Peter's Church steeple
| | |
| --- | --- |
| Note the four hanger buildings in the upper right- this is the main market area. | |
| | Ratslaukums Square |
| | |
| | |
| Inside St. Peter's Church | |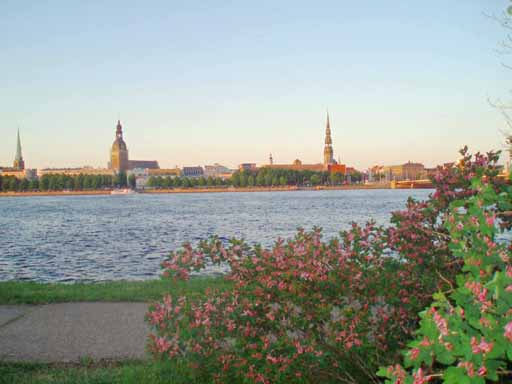 Riga as seen from across the river.
Photos of war damage and pre-war of Blackheads House
Some street scenes in Riga

The oldest street

Riga Cathedral

Lunch!

The only remaining original city gate

The old Powder Tower

The Russian embassy. We were told not to take photos up close.

Noticed a cat watching us as the group was in the Art Nouveau district

Latvian flag with hard to see black ribbon in observance of Holocaust Day.

A classical music concert "Primavera" in Architektu
There is a large mall in the middle of the old town. We came across this display of childrens art.
Art Nouveau architecture, also known as New Style ("Jugendstil" in German). Art Nouveau appeared in architecture and furniture in the 1890s. Art Nouveau buildings often have asymmetrical shapes, arches and decorative surfaces with curved designs. Nearly half of the buildings in the center of Riga were built in this flamboyant style.
| | |
| --- | --- |
| | |
| | |
| Some of the detailed carvings on the buildings | |
| | |
| | |
Visited the Monument to Latvian Jew Saviours during the Holocaust
A visit to the main market area (5th image on this page)
A visit to Turaida Castle near Sigulda, Latvia
Turaida Castle (meaning Thor's garden in Livonian) is a recently reconstructed medieval castle in Turaida, near Sigulda. It was built with bricks due to a lack of good rock in the area.

Old church

Sculpture in the park.

Local person picking flowers from the linden trees. >>
Map of the park.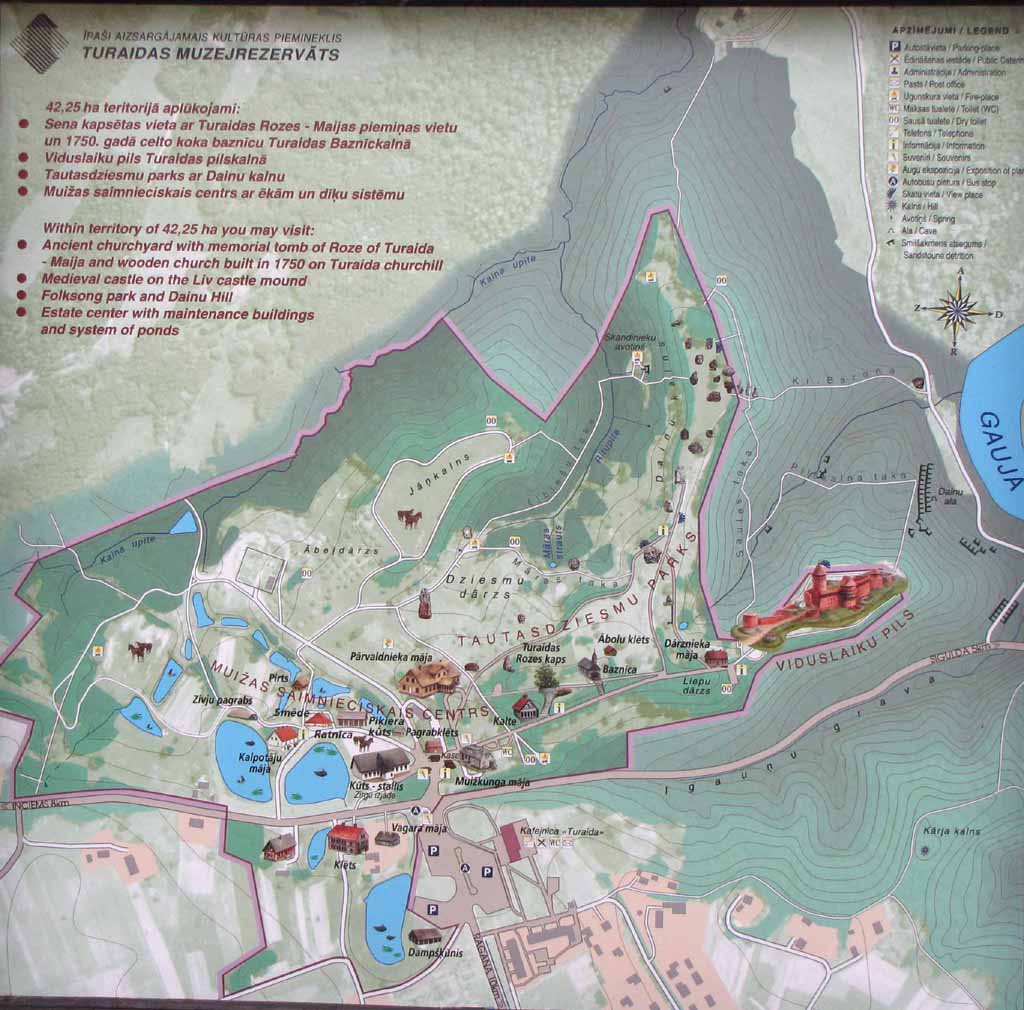 | | |
| --- | --- |
| The grounds crew added a BMW insigna to their tractor. | |
Misc. Photos in Latvia
| | |
| --- | --- |
| Lunch restaurant | Pond at restaurant |
| | |
| What does this sign in the pond mean? Answer below. | |
| | |
| Cemetery in the woods | Latvian church |
| Golf course and other sport stuff, unheard of during the Soviet period. | Park in Sigulda |
| The Gutmana Cave | Anyone looking for a country lodge? Needs some repairs. Close to Gutmana Cave |
| Gauga River | |
Answer: Designates a place for a fire truck to draw water from the pond.
All images and text © 2013 by William & Sandra Kaszeta